Art Installation: Lifecycle of the International Student.
We're looking for artists: Collaboration opportunity with the DSU
The DSU is looking for international students who are passionate about art and photography and want to share it with the community, as part of our Fairness for International Students Campaign. We will be displaying digital art or photography to showcase and express the lives of international students. The chosen pieces will be installed in the DSU building in an exhibition this spring. This callout is open to all international students that wish to submit recent work that represent the lifecycle of an international student living and studying in Canada.  
Why Enter?
International Students have looked to Canada to receive one of the world's top educations from Canadian post-secondary institutions. Canada has been ranked in the top three of most popular destinations for international students to study. Unfortunately, the institutions and governments are recruiting more international students to fill the gaps within their budgets with inflated and unequal tuition costs. As a result, students have come to Canada to study on false promises, and rising costs. International students have felt like, cash cows, feeling isolated, with little support of transitioning to life into Canada. The DSU wants to showcase and highlight the experiences of Douglas College's international student community. Through art we can express the highs and lows of personal experience and connect with individuals who have gone through similar experiences. By submitting a piece of artwork expressing your story as an international student you will help students feel empowered to address the financial inequalities international students face.  
Eligibility of Artwork:  
Artwork can be submitted in these media forms: digital paintings, drawings and photography.

 

Work must be submitted in high resolution PDF or high-resolution JPEG.

 

Artwork must be made independently and original to the student submitting.

 

Artwork must be appropriate.

 
Submission Requirements:  
Must be a Douglas College International Student (or ally).

 

Must submit name, student number, email address, type of art you wish to submit by June 24th at 4pm

.

 

All artwork must be submitted by email

to

campaigns@thedsu.ca 

Artwork must be submitted with the student's name, and a brief description of the artwork created.

 
Deadline Dates:  
Emailed intention to participate in exhibit: Deadline Friday June 24th @ 4pm

.

 
Questions? Email campaigns@thedsu.ca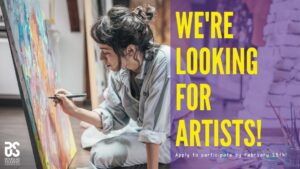 ---
International Students need predictable tuition fees.
Students choose to come to Douglas College, just as they do to institutions all over Canada, to get a quality education. With no restrictions on their fees they're becoming a resource to fill the budget gaps in our British Columbia post-secondary system – tuition up to 5 times more than domestic students. Our Fairness for International Students campaign lobbies the provincial government to provide stability for international students as well as the future of the BC post-secondary system.
Goals:

Establish provincial regulation of tuition fees for international students, including a freeze or cap on increases
Regulation or standardization of tuition fees at Douglas College
Increase awareness of the unique challenges facing international students, including predatory tuition fee models, insufficient student services and racsim on- and off-campus
Background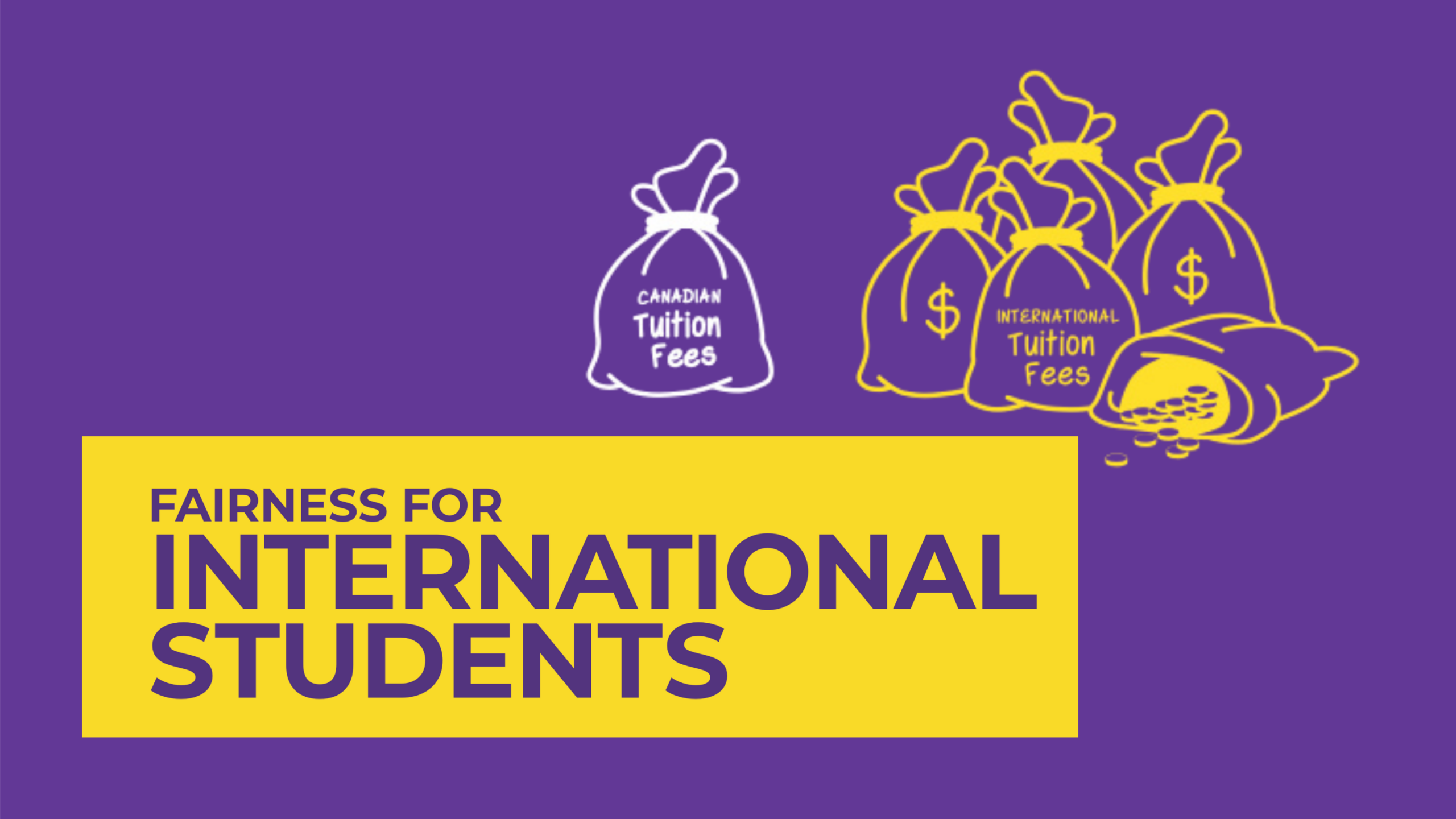 International students look to Canada for an opportunity to access one of the top ranked countries for higher education in the world. Unfortunately, Canada's excellent reputation is being used by governments and institutions to recruit more and more international students to fill the gaps in funding with inflated and predatory tuition fees.
Unpredictable tuition fee increases for international students make it challenging to budget and contribute to student stress. This could force international students to drop out or seek education in other countries for more affordable education.
The federal and provincial governments rely on international education as a crucial export to boost their respective economies; it is clear that international students have a vast impact on the economy, but without regulation this is a highly unstable situation, which could collapse without warning.
British Columbia has been a top-level destination for international education, but significant risk exists to its current model. Regulation of international student tuition fees and a comprehensive international education strategy will better ensure stability and security in BC's international student enrolment in the years to come. It is well within BC's capacity to provide international education that is fair and supportive for students, and still generates substantial economic returns for the province as a whole.
UNREGULATED, UNPREDICTABLE, UNFAIR.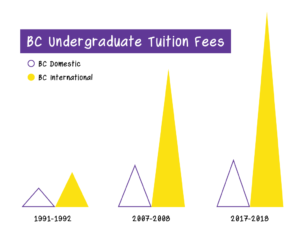 In BC, as in most of Canada, international tuition fees are unregulated and can increase at any time, with no notice. Domestic student tuition fee increases are capped at 2% annually under the BC government's Tuition Fee Limit Policy. Meanwhile, tuition fees for international students in BC have increased by 64% since 2006.
Due to government underfunding, institutions have come to depend on the revenue they receive from increasing fees for international students. However, unpredictable fees make budgeting impossible, meaning some international students are forced to leave Canada before completing their studies.
IT IS TIME FOR FAIRNESS FOR INTERNATIONAL STUDENTS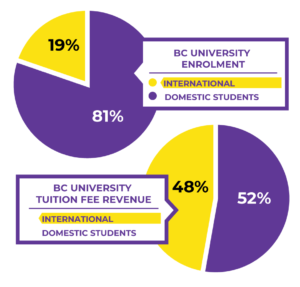 We are calling on the BC government to amend the Tuition Fee Limit Policy to include the regulation of fees for international students. This would create fairness, consistency, and predictability for international student tuition fees.
Working together with the British Columbia Federation of Students, we published a comprehensive research document about international students in British Columbia. The document explores the history of international education in the province, the current reality of funding and fees, and the pitfalls of the province's current strategy (or lack thereof) on international student recruitment.
Add your signature!
Join us in calling on the BC government to amend the Tuition Fee Limit Policy to include the regulation of fees for international students and create fairness, consistency, and predictability for international student tuition fees.
Sign now! arrow_forward